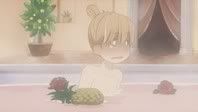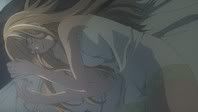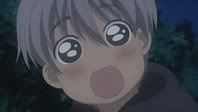 Yes, yes, I know I'm very late on this -Episode 6 will come later this afternoon-. Let me explain, first. The reason it comes now is that I was too busy getting this. See how pretty it looks all nailed to my ceiling? It's very pretty and very hard to find. I had to look through rack after rack of posters until I hit the jackpot. I almost cried while I was there. They also told me they used to have some of the dvd 1 Japan promos, but that's ok, I have a mini one -also up on my ceiling-.
Now, here's where I make the transition. Watch this: So that poster cost $26, but it was totally worth it. I would spend another 26 if there was another poster in a heartbeat. The entire year I've been saving little by little for Otakon so I could get Honey and Clover stuff. Though sad I ended up with just one item, it was money well spent. And it seems I was not the only person saving money. In this episode, we have Morita, a guy who's raking in the dough like it's all chump change… but he's not spending it. As we witness the meeting between him and Kaoru, they're scheming something.
Now we haven't seen much of Morita this season and the only thing I can offer about him, his brother, and all that money is that I think it may have something to do with their father -note: As I write this, I haven't watched episode 6 which gives us what seems like a look into Shinobu and Kaoru's past. I will after finishing this.- The suspense!
But that's not all. It seems Mayama's been accruing quite a sum himself. In his "hammy" speech -which was awesome-, he's saving for his loved one. He also mentions that it is said that in life, one gets at least three opportunities. This is a nice concept becuase I'd like to believe that. I dont believe I've had the chance of experiencing "an opportunity" so I have something to look forward to with this bleak and possibly hard working future. How nice would it be for someone/thing to go up to you, say "Hey, I'm your golden opportunity. Take me out to dinner" ? Yeah… that'd be great.
And speaking of Mayma, Yamada slowly cracking. What a shame, no longer playing the damsel in distress role. But hey, human emotions are one of the hardest things to remain static.
I do have one complaint though. Near the end with Yamada as the narrator, the black and white scenes with the petals falling down was rather bad. Though the purpose was to clash, it was just so bad. But I wont hold it against the director, this scene was counterbalanced by other good ones.
Oh. You hear that? Episode six is calling me.
No recap this time… unless it's someone's dying wish.
4 Responses »
LEAVE A COMMENT: