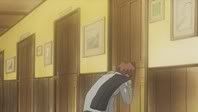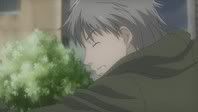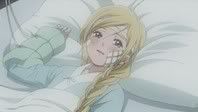 If it wasn't for the fact that everyone in my house was already asleep, I would've yelled "Hagu-CHIIIIIIN!" when I saw her in the hospital.
Now I had the video file on my hard drive for a bit less than a day before I finally watched it. If I knew what was lying in that file, I would've been all over it the moment it finished. You knew something was gonna happen, something tragic, but it can wait, right? No. No, it cant. If you've been following the series and haven't watched it, go now.
When TJ-Han saw this episode a few days ago, he mentioned that the beginning of the episode made it seem like she was trying to commit suicide -it's true, it does-, and I became worried. A few scenes later, I let out a sigh of relief when I learned she hadn't… but it was a quick sigh, though, becuase the fact that she's still actualy majorly injured finally sunk in. Will she be able to paint again? What is Morita's role? Will she die? Will Takemoto suddenly become Jesus Christ and save her?
No, tears did not stream down my face this episode, but they started to well up. When I saw her in that hospital bed, the first thing I looked at was her hand. All wrapped up and in a sling, with her little fingers exposed, I had the biggest urge to just hold those fingers. They just seemed so… I guess "human" would be the right word, here.
Then on unrelated stories, we get to catch up on the Morita brothers and Mayma. Mayama, he seems to be doing fine, despite certain circumstances and the Morita brothers exact their revenge. Even though they finally get the company back -and I'm glad about that-, I cant help but feel a bit disheartened. The enviroment that they all worked in way back when, it wont and cant ever be recreated again.
And unfortunately, it seems that with the season will wrapping up in a couple of episodes, It's good to see they're not holding back on quality, though. I guess here's where I start to feel a bit sad that it IS ending in a few episodes and try to enjoy the rest at max. If the rest is of this magnitude, this series is going out with a bang, that's for sure.
I did have a bit of beef with this episode's insert song, though. I'm sorry, but I just dont feel that a techno-y pop song is just right for this scene. Though the lyrics do fit, it's just the actual music that I feel cant fit with what's happening. I'm not going to deny, my initial impression is that the song's rather bad. Hopefully after listening to it a couple times, it'll finally grown on me.
Oh. Speaking of accident, if you've been living under a rock, Takemoto's Seiyuu, Hiroshi Kamiya, was injured a while back and he'll be replaced by someone else in the final episode. I wish him well and I hope the sub isn't some chump. Becuase if he is… *shakes fist*
5 Responses »
Yeah the insert song was pretty malplaced. They've had great insert songs all along so one wonders what made them use a beat like that, especially for such a heavy episode. Completely out of sync with the atmosphere.

2. Lakail

I think that was the point, though. Or so I hope at least.

3. Miguel

I happen to like a lot the way they've used this song.

It's rahter a great idea, in my opinion!

The somewhat upbeat tune created a climax and it was amazingly coreographed with the action. The way they've managed the incident is very stylish.

In my case, the scene was so intense that it got on my nerves!

I happen to love the final shot of each main character (Mayama, Yamada, Takemoto and Morita) looking out, as if they we're somewhat watching the scene.

Amazing scene, in my opinion.

4. Allison

I liked the song too. But what's with all the suicide this season? I hope the girls will let those special guys into their lives.

5. Brenna

I feel so emo now. My heart hurts.
It hurts for Hagu-chan.

I was luckily the only one around when I screamed out for Hagu-chan.

My head kept saying, "She dead. Gone. It's over. What is Takemoto going to do?"
LEAVE A COMMENT: