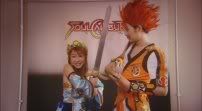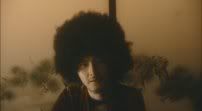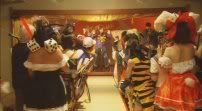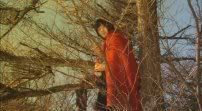 Silly Densha Otoko fans, otakus can never find love. Of course this movie is entirely ficticious… or is it?!… Ok. Yeah, yea it is. But dont lose hope!
I'm not really sure how to describe this movie but I can say this: this movie is whack, yo. You can sorta follow the story for the most part, but it's just so out there you cant really concentrate. It's sorta slice of life-ish… but not like Bokura ga Ita or Honey and Clover's slice of life style that you'd expect it from the movie's title. Well, that's what I expected anyway. It's far from it. It's got sex -the actual activity not seen- and lots of crazies. Sorta like REC!
There are cheesy effects to start off the movie and you have no idea why "otaku" is in the title until about nine minutes in after the little implied sex scene. Oh and be wary of the people you watch this with. It's sure gonna get awkward. Or, if you DO watch it with a person of the same sex, dont make eye contact.
"Why did I even pick up this movie", I found myself asking about halfway in. The title's intriguing but the screencaps that came with it made me a bit wary. You could tell that it's not going to be a shoujo version of Genshiken and that's exactly what it wasn't. Ultimately, my reason was because the main character is the guy who played Ren in the NANA movie. I mean, come on. I love NANA.
It is funny at parts, though, like when we discover the kid in the cupboard or the guest appearance by Sambomaster. That's pretty much why I kept going. Sambomaster rules… and their music is good, too.
It did keep true to its word in the end. It's sorta like the movie I never saw, Snakes on a Plane. You're sorta told what happens in the title. There was some Comiket action and some love. Though I'm sure that some scenes didn't even take place at the real Comiket, it had the right enviroment and I want to go now even more than ever.
Would I suggest this movie to anyone? Only if you're bored. THIS SH*T IS WHACK!
5 Responses »
LEAVE A COMMENT: