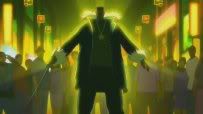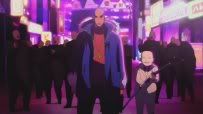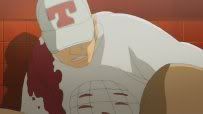 No, really, G's only. This stuff is sick. If you are a child or you have a weak stomach… you are in for a ride.
But I guess the biggest question is, what happened to Tokyo Tribe 1? It must've gotten lost because there is no Tokyo Tribe 1, only the manga. Now I've seen the manga on the shelves before, but I thought nothing of it. I suggest you do the same for the anime. Oh, but interesting thing? Apparently this is not one of those manga by American manga-ka's but a Japanese one. I never knew that.
Now for the show, let me just warn you about the NSFW-quality scenes in the show. There is a staircase with boobs on the wall. There is a poor boy getting raped by a giant fat man. There are naked women. EWWW. Cooties! Now consider yourself warned. Do not watch this with children under the age of 3.
So what's really happening in the show? It's essentially a yazkua show but instead of yakuza there are fake-me-out gangsters. You know, there's the whole territory business and the whole killing business and henchmen and all that nonsense. There's even a dude with a sword. Yet it is important to note that this is no Samurai Champloo.
The hip hop beats in the background are fairly average and so is the OP -but I guess that's to be expected-. Neither of those are catchy. The ED, though, it has potential, though I may never hear it again seeing as I'm not going to go through the trouble of downloading episode 2. Nujabes, this is not.
I was fairly bored throughout the show as nothing really exciting happened. But there is one semi-good aspect to it. Just one. It's not the character designs because they look a bit… not cool. The animation, though, I must admit doesn't look half bad.
In the end, I learned one thing about Japan. Beware of business men and monks. When they're not working/drinking/praying, they're crazy gangsters. Be forewarned.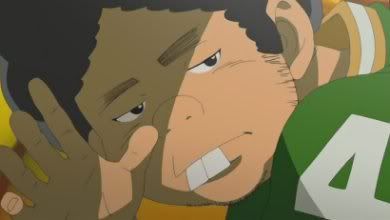 "Come any closer and I'll use my teeth!"
11 Responses »
1. chrno

Tokyo Tribe2 = Tokyo Tribes as far as I know. Just think of the 2 as an S

"Apparently this is not one of those manga by American manga-ka?but a Japanese one. I never knew that."

It helps to check the name of the author, you know. I mean, it's right on the front of the book. I always knew that Tokyo Tribes was Japanese…

I never looked past the cover art and the title, thus explaining my ignorance. YOU DONT KNOW JACK, WILDARMS.

I haven't heard of this before, but its looks interesting.

>>Os

Nevermind the fact that the artist's name is right on the cover. Also, the orientation of the book should have been a clue. Not many American books read right to left.

Arms, arms. I said I didn't look past the cover, remember? And even then, I only briefly glanced at it. PLUS the fact that it's by tokyopop increases the chance that it's one of those american OEL books… or OLE. whatever the acronym is.

7. Mister Lung

As for music you're pretty ignorant I agree with the character design but it does progress.

Anime news network is lazy with titles
Tokyo Tribes = Tokyo Tribe 2

There is a Tokyo Tribe but there only one volume worth.

Tokyo Pop should stop releasing shitty english manga artist and release a volume of manga more the once every six-eight months jesus

Sorry Lung. I like hip-hop as much as the next guy, but those beats are nothing to brag about.

This series was kinda neat, more American than most anime. I liked it, but that whole fat guy raping the poor boy up the ass was hella hella creepy, even worse than those sex scenes in Ninja Scroll. EWwwwwww. It makes me not want to watch any more of this series and kinda sorry I downloaded it…..
awkward silence…..

you don't like hip hop as the next guy bro. average? dude Muro has been running the scene since he and DJ Krush were the Krush Posse back in the 80's.

and Buddah Brand is one of Japan's finest hip hop crews, period. that intro is heat and you know it. you are probably like the rest of the otaku no gaijin out there who only knew aout japanese hip hop through Samurai Champloo. nujabes is a producer, not an emcee or crew. stop fronting.

study your manga's background before making generic write ups about it, like this one. Tokyo Tribes has been in Boon magazine for years. you're the boring one, not this show.

ha ha. Sorry, money. My hip hop is VERY VERY limited, you are correct. BUT COME ON, DOG! I AM NOT LIKE THOSE "otaku no gaijin"! I know about THREE hip hop groups. Word.

Oh, and Tokyo Tribes is still boring. "Stay tuned for the next episode. Hey hey hey hey. Smoke weed everyday."
LEAVE A COMMENT: