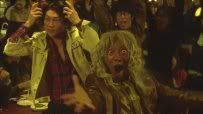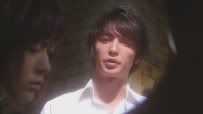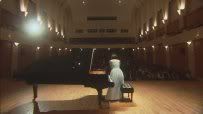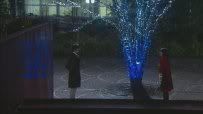 … it's the size of your heart and how you play the game.
Lately I have not been doing any reviews simply because this season has not produced any shows that are to my liking. Add that to the college applications I have to fill out and the sudden -freak- increase in the amount of work I have to do as a senior, the only show that I've been looking forward to on a weekly basis is not an anime, but the live action of an anime.
If you remember, I could not stop praising episode 1… and 8 episodes, later, I still cannot stop praising it. Now I am not a j-dorama expert, but I've seen my fair share of shows. Among my top shows are Nobuta Wo Produce and Stand Up!!! and like these two shows, Nodame Cantabile is making it's way to the top before I've even finished watching the entire series.
Seeing as there are only two more episodes left, and seeing as how I've been seriously battling some "writer's block", I'm hoping that doing episode reviews of Nodame will at least keep in me shape for the upcoming season.
One of the things I could not wait to talk about in this episode was the introduction of the alien. You know, the one from American Dad. The one with the big forehead. Man, can you believe how whack that hair is? It's not even an afro! It's like an extension of his forehead covered in hair, it's so big. Plus, judging from his character, he's one of those douchebag pompous rich guys. I hate him already.
Meanwhile, Chiaki sure has… -for lack of a better word- grown, huh? You know you couldn't help but laugh at his phobia, but he's been slowly shedding that hard outer exterior that we see in the first episode, and you start to think that maybe he really is cool after all. I guess I'm sorta like Mine in the sense that I dont want the Rising Star Oke to break up, but if it's for the betterment of his future, I'm all for him going to Europe. His talent is just too good to waste at home.
Nodame, in the meantime… I still do not have a one word adjective to describe her. Quirky one second -what the hell does "quirky" mean anywho?- and vicious the other second. I greatly enjoy watching her play the piano and everytime I watch her, I sorta wished I picked that rather than the saxaphone. It's just sitting in the corner of my room picking up dust. She was really cute this episode and we all know that despite her messy play at the very end… she'll somehow end up in the third round… right? RIGHT?!
And one more thing on the random side. I watched the SMAP Bistro special last weekend and they stated that the 25th would be the final episode. In this episode, the 9th out of 11, they said the Rising Star concert will be held on the Christmas day. Does this mean that thare are only 10 episodes or does this mean that there will be another episode dedicated to Nodame and her troubling past? Hopefully I can get this answered without spoilers.
Oh, and for maximum viewing pleasure? Get a friend -like Pip- and watch this episode at the same time. You'll surely want to talk with someone as soon as the episode finishes.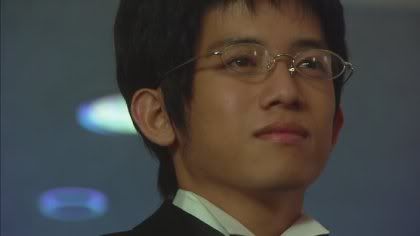 His head is so big, it wont fit the screen
2 Responses »
1. Finalsights

Well its never to late to pick up playing piano its pretty simple if you already know how to read music , just got to remember to change whatever key you usually play in to concert . Besides Ueno Juri (Nodame) was originally a sax player so im sure you could do it if you had the time.

2. thtl

There are indeed 11 episodes to this series.
LEAVE A COMMENT: