Dont be surprised if there are more Nodame posts just popping up because I am all over that series right now. I'm so "all over it" that I'll watch anything related to it, including the Bistro SMAP episode. -thank you siantut for the softsubs. I'll be nowhere without you-.
Now you may be asking, "Os, what is Bistro SMAP? It sounds like a bread!". Sit down and let me tell you. SMAP is a Johnny's Group -aka a "beautiful boys only" boy band-. But that's not all! They can cook, too and Bistro SMAP is one of their variety shows.
Essentially this show is like Iron Chef but this time, instead of focusing on the cooking, they just show shots of the cooking while they talk more about the Nodame dorama -not that I'm complaining- and I actually know who the celebrities are. Here Nodame (Ueno Juri) and Chiaki (Tamaki Hiroshi) have a special order and it's up to four of the five members to cook according to the order. In the meantime, the audience just listens to chit chat between the host member and the two guests. Yeah, this sounds pretty boring, but if you're a fan, it's something to do while you wait for the next episode.

Surprisingly enough, it was pretty intersting and I enjoyed it. I do not know if it's my newfound love for Nodame or my newfound interest in the Food Network, but I wasn't bored the entire time or at all, actually. They had a conversation about Ueno Juri receiving underwear as a gift from one of the SMAP members when they both starred in another dorama at one point and they talked about Ueno and Tamaki's role in Nodame and it was slightly interesting.
When it was time for Ueno and Tamaki to eat the food, that's when it got funny. Is it supposed to be funny when you watch people eat food? It was just oddly hillarious to see Tamaki's reactions and Ueno just stuffing her face -not to mention cute-. It's also sorta fun to look at their faces and decide if they're saying the dish is delicious only to be nice or they really think it's delicious. I wonder what would happen if one of them came straight out and said, "Man, this sucks".
Those Japanese have so many better shows than over here in Amerigo. I need people to translate these more often. Now if you'll excuse me, I'm headed to Super H-mart to find me some green noodles.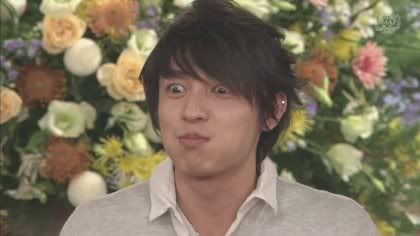 DUDE, THERE IS A COCKROACH IN YOUR SOUP
3 Responses »
1. Pip

Episode 10 tomorrow? What do I do? What do I do?
http://scott.animeblogger.net/2006/12/22/me-in-9rules-aside/#comment-4534

2. Naddie

Darn I wanted to download this too but I haven't even finished downloading ep 9 & 10! And I'm going back to uni tomorrow D: Darn this slow speed!

seen them all…… hehehe. i want to watch the tv show… wanna see their reactions….. XDDDDDD
LEAVE A COMMENT: