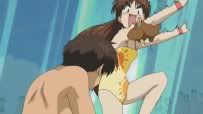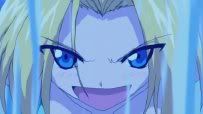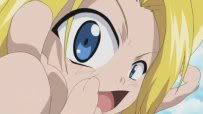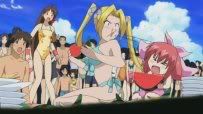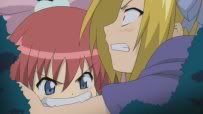 Yeah, I get lots of flack for being a Ken Akamatsu fanboy, but in my defense… he is just the man.
Now this episode of Isudatte My Santa… it doesn't exist. Or rather, if you believe it does -like you believe that Santa Clause exists… silly- then Ken Akamatsu had nothing to do with this. Sure you can make the argument that seeing it's an Akamatsu product, it was only natural that most of this episode took place at the beach where it's natural to see scantily clad women. Sure you can say that.
But no, no. That's what they WANT you to think. This was quite a big waste of my time. Surely Ken-ken would never waste my time. He would also surely not annoy me greatly, as this episode did. The music placement was horrible for the most part. Talk about bad timing.
It's been a year since I last saw this OVA. I thought there was three episode and I'd do episode three next year but I guess it's a good thing there isn't. I love Christmas episodes, and seeing as this series is Christmas themed, you'd think there would be more… Christmasy stuff than having it all jammed at the end. I THINK I enjoyed episode 1, but this was just… Mahou Sensei Negima-esque.
The shining point was Aya Hirano. Actually, she was fairly average, but you know, I'm coverting to Ayaism. Someone pointed this fact out to me months ago and I've been waiting to listen for it since. That was about the only thrill from this episode.
Thank goodness for the transformations, AMIRITE?
"I was NOT thinking about your panties while I was waiting"
One Response »
1. Skh

Well, as it wasn't in the original -short- manga, I think Ken Akamatsu didn't work on that. Or so I hope.

Yeah for Christmas at the beach.
LEAVE A COMMENT: