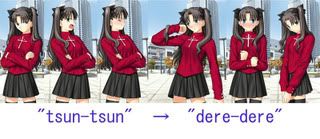 Inspired by this, I'm going to do a quick post. Ooooh, I'm so adventurous.
Here was a conversation I had with my friend in the morning:
"Hey man, how's it going with the situation with her?"
Dude. I dont know. One moment she's ignoring me, not giving me the time of day. Then later, she'll be all nice and wont stop talking to me through AIM… God damn tsunderes, man.
"What?"
Uh, nevermind.
So there we have it. Tsunderes are not fantasy, they are indeed, real living creatures. They wear human skin so watch out.
9 Responses »
LOL. I have seen a few actually in real life. Yours is not tsundere, just a mood swinger.

What exactly is the defination of a tsundere?

Zee, look at that FSN image up-top; it fairly well diagrams the tsundere idea.

err, actually that one is too low-res. one sec

http://danbooru.ichijou.org/data/bb/e7/bbe7885ff9d25d6be6275e25e521f430.jpg

There.

You're a funny guy, Os. Pip told me something about this girl and glasses…

Glasses 24/7 or bust, dude. OR BUST

Actual conversation with my parents:

Mom: She's awfully pushy, isn't she?
JP: Huh?
Mom: Like how she got annoyed when you were wrapping her Christmas present and started doing it herself.
JP: Oh, that's not pushy. That's tsundere.
Mom: …

8. Pip

Just give me a dere dere any day.

9. valezuka

PMS!!!
LEAVE A COMMENT: