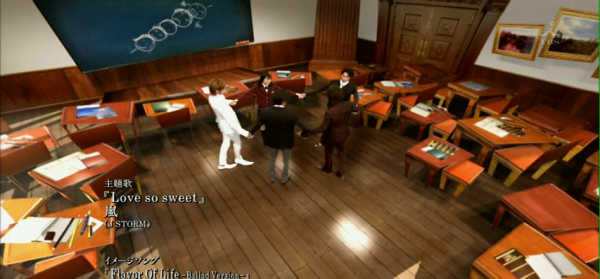 I dunno if I'm hardcore enough to start calling Hana Yori Dango "Handan", but the moment I heard that there was a season 2, I couldn't go long without thinking about it and drooling all over myself. Let me start off by telling you my long arduous adventure. But speaking of subs, if you're still looking for them, go to arashi.vox for soft subs. From episode 2 on, she'll be releasing hardsubs, so I'm very thankful I didn't have to redownload 1.3 gigs. Poor girl. Apparently she's also being messaged 24/7 about downloads and stuff. The moment her site was linked on d-addicts, I bet her hit count skyrocketed to outer space but so much pressure was suddenly pushed on her. Thanks again, arashi!
So my adventure. It was worth it in the end. The wait, that is. After I heard about the subs, I would refresh arashi.vox's page and the d-addicts thread every couple of minutes in hopes that some new news would show up. I did it for an entire night on Sunday, and when I finally gave up… she uploaded it on Clubbox. Now for those not in the know, Clubbox is all in Korean so I didn't bother to go through the walkthroughs. I just had the suffer a long day of school.
When I got home, the first thing I did was refresh arashi's page and lo and behold, soft subs! At that point, there was speculation that she wouldn't do soft subs and hard sub it, meaning that my wait would be further increased, but Thank God. Of course I had a big Physics test… but screw that, people. This episode 1 is near 2 hours. I'll just wing it on the test the next day -and I did pretty poorly I think-. But like I said, it was okay in the end. I think that with all this anticipation, had the entire episode been just the four guys sitting around and discussing philosophy, I'd still be excited.
A bit of this episode took place in New York. I wish I was there. Like Ten, if I knew I'd get a glimpse of 'em, I'd book tickets in a flash. I liked the scenes where they tried to talk English. I can only imagine their helplessness. And the gansters! Gold, I tell ya. Those g's and their malicious basketball. Even I feared for myself. Ha. I bet they just chose random people and asked them to help. I doubt those were pro actors. Fun scenes either way, though.
Lots of other stuff happened in this two-hour episode, and though a recap was sorta helpful in the beginning, I thought it was too long. I wanted action and I wanted it soon. One mysterious scene that sticks out in my head was Tsukasa's nightmare. Though there is no hardcore evidence, I'm thinking that's his dad. And Tsukasa's future "wife". Man, she's cute. I'm having a hard time deciding between her and Tsukushi. But of course, the best scene was when we realized that Junpei was the bastard causing Tsukushi trouble. I mean LAWL. Killer models. Where have we heard that before?
So seeing as it's getting long already, there's one more thing I just wanted to throw out there: It was good to see the cast was left intact. The first thing I look for in doramas are for actors/actresses that I know and I had a bit of fun. The new actor -and it seems it'll be just a one time thing- was Ikuta Toma. I knew I saw his face somewhere, and after wiki-ing it up, he was in Akihabara@deep. I wish I had more time to finish that series. It was pretty good last time I remember. Good to see an otaku suddenly become a model. Gives us all hope.
In the end, it was good enough to wet my appetite. There's still a long season ahead of us, after all and even though I know for sure that I'll be watching 'em weekly, I dunno if I blog it. We'll have to see.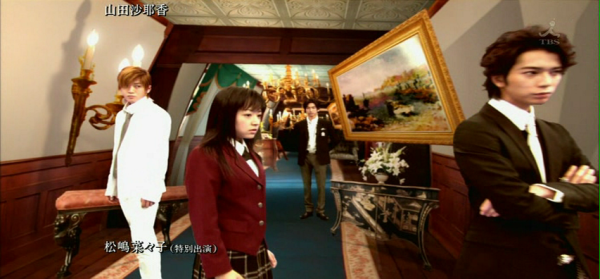 Yeah, they're all back.
4 Responses »
1. newt

LAWL holy crap I want this NOW! …. downloads

2. refindintricacy

get the first 2 episodes of season 2 with hardsubb in d-addict sars- fansunb did the subbing

[…] Like I said, Tsukushi can go for the Rui-side. At least, for now. Especially with our white-wearing sensitive one is beginning to develop certain emotions. I mean, he'll be asking "Who's Shizuka?" very soon. And for the record, I squealed like a little girl when I saw the TsukushixRui scene. (I have feeling Os will do that too. In a manly fashion, of course.) […]

Interesting about ocd & obsessions!!!My Sunday Stealing is now potsed…come on over if you have some time today…Have a great week!!Recent blog:=-
LEAVE A COMMENT: