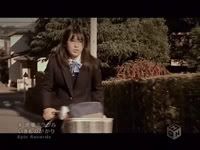 Ryuusei Miracle is the opening to the anime Tenpo Ibun Ayakashi Ayashi, and it is by far the most favoured theme song of the fall anime season.
The PV is rather unusual and the meaning or story behind it isn't clear, or maybe it just doesn't have one. Either way, it's pretty obvious that shooting starts have magical powers and are able to come out of people's fingers. Yes, the video is very odd and the first thing that I thought after watching it was, "What??". But no, it isn't strange enough to be classified as "eccentric" (we have YUKI for that). It's just that, "What?".
Moments of the band playing the song and scenes of a random high-school girl parallel each other until the three of them show up on her desk one day, in miniature form, doing some sort of march. The seifuku girl also gets transported into a microscope during science class. What does this all mean? …I wouldn't know.
None the less, this doesn't stray from the point that Ryuusei Miracle is a bright winner with everybody out there. In short, it's just a really happy song! And everybody likes to be happy!
The lead singer's voice is just as strong as ever, not falling behind her performances of songs like Hanabi and SAKURA, and it proves to be versatile as Ryuusei Miracle is more of a pop-rockish song. Of course, the distinct harmonica is once again featured. I'm not sure about others, but I think the harmonica adds an unique touch to their music. This with the lead singer's powerful vocals make the song a pleasant experience.
Ryuusei Miracle is a fun, playful song which is a total "pick-me-up" if you're ever suffering from being in a slump. For people who enjoyed this song, I'd recommend listening to Younha's "Houki boshi" which was Bleach's 3rd ED theme.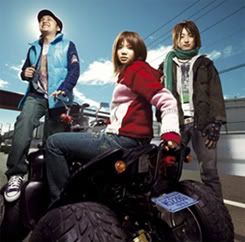 Released on December 6th/06
2 Responses »
THIS IS GREAT SONG OMG LOL WTFBBQZZZLOLZ. Seriously, I use this as an alarm clock. Where did you get the PV man?

I love this song as well, it's so energetic! I saw the PV at jpopsuki, dunno if it is around in streaming format though.
LEAVE A COMMENT: