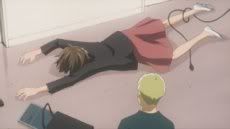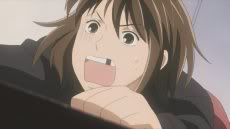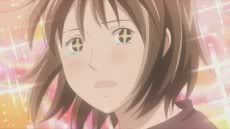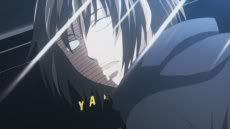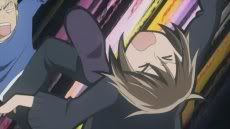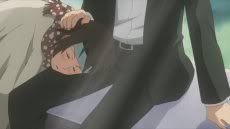 So it's Mine's turn to shine… I guess.
It may just be me, but the way the episode opened with Mine mimicking Chiaki's entrance the previous episode made me really lawl. I'm not quite sure why, but I'm guessing it's because of the dorama. Seeing as it's already finished, I know who Mine really is and I've already established his character in my mind. So just seeing him act like Chiaki was funny becuase we all know that in the end, he sucks too -at first anyway-.
What really surprised me about the animated version of Mine is his hair. Usually it's the live action adaptations that just cannot do animated hair well yet this time, I think Mine's hair in the dorama is much cooler. It's supposed to be wild and big, but in the anime, he's sort of got a buzz cut going. Not wild at all. I'm greatly dissapointed.
As for his voice, not like Eita at all but I can live with it. I think it's most like Eita when he shrieks/yells, so it's not so bad. I'm sure I've heard it somewhere before, yet I cant put my finger on it. I'd do research, but I'm hoping you'll do it for me *cough*.
Either way, now that I've calmed down since the first episode, let's approach this with an open mind. I still think the character designs are great even though some people think that they look plain -and I can see where you're coming from-.
I paid particular attention to how it keeps the audience's attention when they're playing music and it's a mix. There are still shots where the background is one of vibrant colors and the camera slowly pans (shifts) up and down or right and left. There's the movement of black silhouettes, which I like the most. And then there's where they use computer graphics. Okay. I may be imagining this, but the way that it is animated, it looks just like computer animation. This is a rather intersting approach and it could be the key.
As for the music, I still love it. I have a soft spot for classical so it's all good with me. The opening is still awesome and the ending has gotten slightly better, but only slightly. I dont like how it ends. But hey, who listens to the ED most of the time anyways. The OP is awesome enough.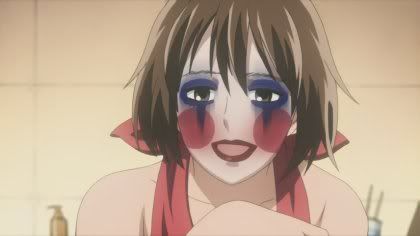 Brings "sexy" to a whole new level
One Response »
Nice descriptions of the musical scenes. I find them enjoyable, even though not much happens. I love everything about this show, seriously. Best show this season (so far), by far!
LEAVE A COMMENT: